Weddings from Chelmsford and Maldon Marquees
Weddings, brides and the big day!
Weddings have played and will always play a traditional part in most peoples' lives. Weddings are many a young lady's dream - Bridesmaids to Bride... just being a part of a special day like a wedding day is such a wonderful thing.
Often a wedding will have been rehearsed and practiced in a young girls mind years before she ever decided to get married. CAMM are here today with marquee advice when it comes to the big wedding day to make sure it's the wedding day that was always planned.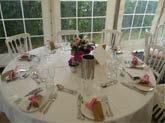 Above: Pretty and perfect
CAMM can advise on the marquees to use, depending on the time of year, the intended effect and feel of the wedding and of course - all of this wedding and marriage quotations can be suited to budget. We can also advise on the kinds of equipment to use - from heaters, bars , colour wash lights and even dancefloors!
Need toilets? We have them! Has anyone thought on reception areas? CAMM has! We have all things covered - wedding florals, tables & chairs.
Catering is a worry of the past and CAMM is connected well enough to be able to recommend a bride to be the perfect caterer for her day. Of course yet again, good food & well set tables can always be arranged to suit any budget.
Getting married - before the big day!
While the wife-to-be plans your big wedding day and you prepare to be married, there is a tradition that has stood out among the grooms and their best men... the stag party.
Why not hire a small marquee? A totally private world under a little marquee hat. With a bar, tables, chairs, music and lighting - You can celebrate and party in perfect style like a V.I.P.
CAMM can supply caterers to make sure that you're topped up with good food, top grub, beers, wine or champaigne. The marquee can be warmed if it's cold, air conditioned if it's too warm.
If a marquee isn't your thing, or comes over budget, why not hire our top notch furniture and we will deliver it all for free to the venue of your choice.
---
Feel free to check our party packages or call us to see if we can sort something out for you today!
Alternatively, you can check out our Party Gallery & Photos
Wedding marquees
How many people are you expecting under your marquee? Marquees start from seating a small number of people (anywhere upto 50 to 70 people) and can sit up to 300 people.
Why not see what kind of marquee you'll need?
| | | |
| --- | --- | --- |
| | | |
| | However: if you want the marquee in a garden or think there may be awkward steps - please call 01245 570 054 | |
| | | |
Marquee linings - There are many linings to choose for your marquee.
visit CAMMwedding gallery